Located in the beautiful north country of Minnesota, our company is based on the belief that anyone and everyone should learn the basics to help a person in need.
Rendering care to someone in need is a basic human instinct. Unfortunately many of us don't know how to help and therefore avoid getting involved. However, with some basic training everyone can take immediate, simple, steps to assist and possibly help save a life.
Our customers' needs are of the utmost importance. Our entire team is committed to meeting those needs. As a result, a high percentage of our business is from repeat customers and referrals.
We would welcome the opportunity to earn your trust and deliver you the best service and training in the industry.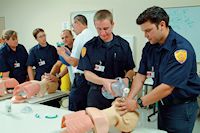 Address:
106  Miller Street
Nevis, MN 56467